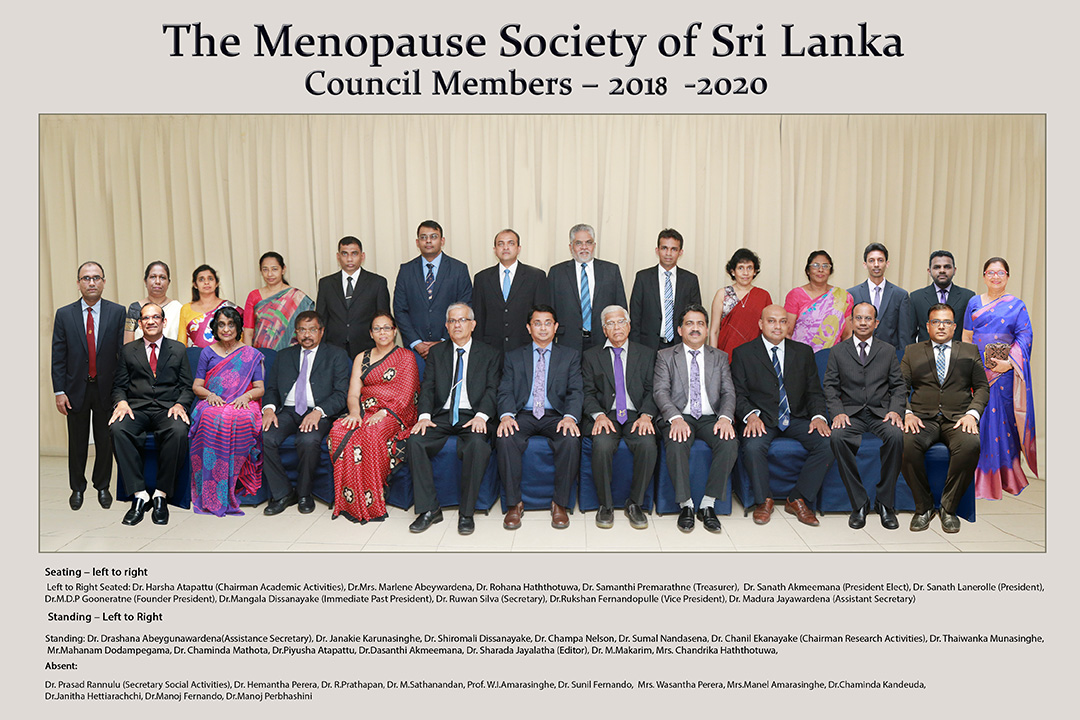 Menopause Society of Sri Lanka was founded in the year 2000. It strives to improve the quality of life of post-reproductive Sri Lankan women, by creating public awareness and education regarding menopause, preventing and improving the management of problems of post-reproductive women by educating healthcare workers, promoting research on menopause and enhancing facilities available for the above. The society has close links with the Ministry of Health, Sri Lanka especially with the inception of the National Task Force on Postreproductive Health of Women.
There are regular workshops and seminars conducted to educate the healthcare workers and the public. Public education and awareness is promoted by disseminating information via print and electronic media and radio and television. Menopause Society publishes a quarterly newsletter and continues to publish books for healthcare workers.
The Annual Scientific Sessions of the Menopause Society of Sri Lanka is held with the participation of local and international experts on menopause-related health and local and overseas delegates. This provides a platform to discuss new knowledge, experience and policies regarding the management of the health of post-reproductive women.
Menopause Society of Sri Lanka has developed links with the national and international professional bodies and social services to enhance new knowledge and improving local facilities. It is a member of the South Asian Federation of Menopause Societies and Dr M D P Goonaratna from Sri Lanka is a past president, while other Sri Lankan members hold the posts of treasurer, vice president and council members.
As menopause management involves a multi-disciplinary approach there are members of many specialities in the council. Membership of the Menopause Society of Sri Lanka is open to any healthcare worker or member of the public interested in menopause-related health. This aims to join together the healthcare workers and the public in the enrichment of the quality of life in post-reproductive women of Sri Lanka.
History of Menopause Society of Sri Lanka
          It was a sunny day in March 2000,  when there were few people with a common agenda gathered at the Board room of the Castle Street Hospital for Women in Colombo, a premier institution caring for women, a teaching hospital of much repute.
Dissemination of Information
From the very inception, the council of the SLMS got going and the annual academic sessions were a regular feature, which was well attended and the overseas faculty always comprising of eminent personalities in the field of menopause.